Event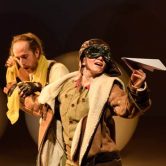 The Little Prince
Venue:

The Fallibromme Academy , Macclesfield

Time:

01:30 pm
Luca Silvestrini's Protein 
The Little Prince
Welcome to the incredible story of The Little Prince, retold in this dance and theatre show by a pilot stranded in the desert.
Find out how the Little Prince leaves behind his own tiny asteroid and beloved rose and journeys through the universe, coming face to face with the baffling world of grown-ups! Have you ever heard of a king who reigns over nothing? Or a businessman obsessively counting stars?
Upon landing on planet Earth, the Little Prince is welcomed by a mysterious snake and a truly wise and friendly fox before encountering the lone pilot. Together they discover the power and beauty of friendship and the complexity of love.
Based on the world-famous story by Antoine de Saint-Exupéry, The Little Prince is brought to life using Protein's award-winning mix of dance, humour and spoken word. Protein's new show invites us to look at the world through one's heart and to reconnect with our inner child.
Friday 6th February 2020, 1.30pm the Fallibroome Academy, Macclesfield,,
Tickets available from eva@fallibroome.org.uk
Tickets must be booked in advance , there will be no tickets available on the door.
http://www.proteindance.co.uk    Suitable for ages 5+